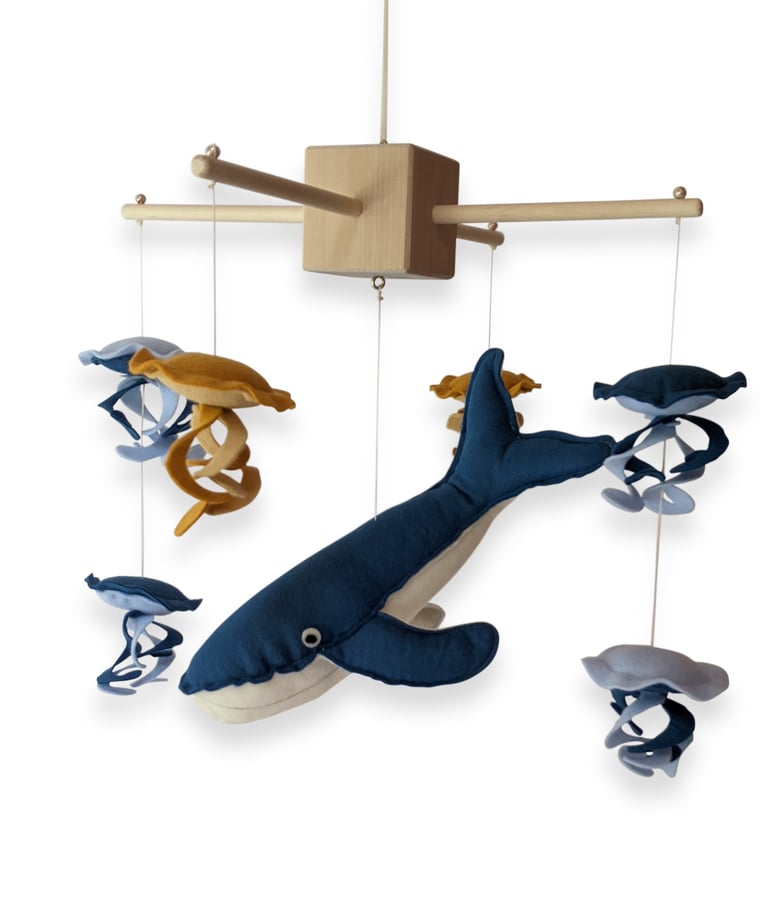 If you are looking for modern nursery ideas our Under the Sea felt mobile is a wonderful addition and will fit seamlessly into many themes, including a gender neutral nursery.
Woodpeckers toys are handcrafted in Canada. Our felt mobiles are made from non toxic materials and make the perfect gift for a birthday or a baby shower.
This mobile includes 6 jellyfishes and a whale. They are suspended from a handmade alder wood hanger.
Wooden hanger : 13.5''x13.5''
What Our Customers are Saying
"So lovely. You can see all the details put into this lovely piece. My baby just adores looking up at it! Delivery was fast and communication with Woodpecker toys was awesome. Highly recommend this shop."
If you are looking for custom colours to suit a specific theme, or have an idea for a toy or costume that you don't see in our shop please contact us, we would love to work with you on a custom order.
At Woodpeckers Toys we design and craft modern nursery decor to inspire imaginative play in early childhood. If you are looking for classic, minimalist style toys that will stand the test of time for your little ones, look no further! Our toxic free, wooden and felt toys are hand made with as many local products as we can source in our studio on the west coast of British Columbia. We offer an easy online shopping experience and fast shipping across Canada, the US and more worldwide locations.