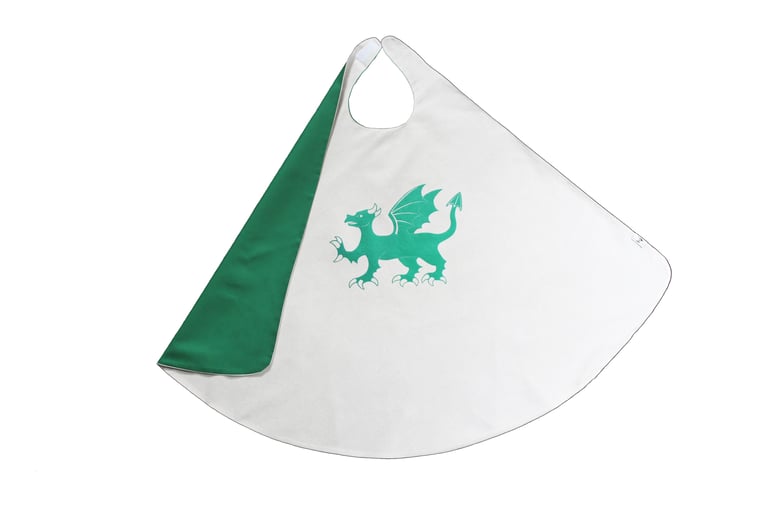 Our dragon cape is perfect for dress-up adventures and imaginative play for 3-8 year old children. The handmade cape is an off white base with a red, green or blue dragon design and matching colour inside.
Add these dragon capes into your child's regular costume rotation or perhaps as a fun prop at a birthday party. The dragon cape pairs well with our dragon sword and shield and our knight felt crowns for a head to toe magical outfit.

We believe that imaginative play in early childhood is important to your child's creative development and each costume made in the Woodpeckers Toy studio is created to inspire endless hours of pretend play.
Materials
- Cape is 100% cotton
Sizing
- The cape hangs about 24" below the neck
Care
- Cape can be hand washed or machine washed. AIR DRY only.
What Our Customers are Saying
​​"Beautiful well made cape! It fits both my 2 yr old and 4 year old. It's fun to have it match the shield as well. Thanks!"
Inspired by the ideas of Montessori imaginative play and creative play for preschoolers, Woodpeckers Toys hand crafts our non toxic toys and costumes from our studio on the west coast of British Columbia. We are proud to be a non toxic toy brand. If you are looking for modern children's toys, Woodpeckers Toys has something for the little ones in your life. Fast shipping across Canada, the US and other world wide locations.