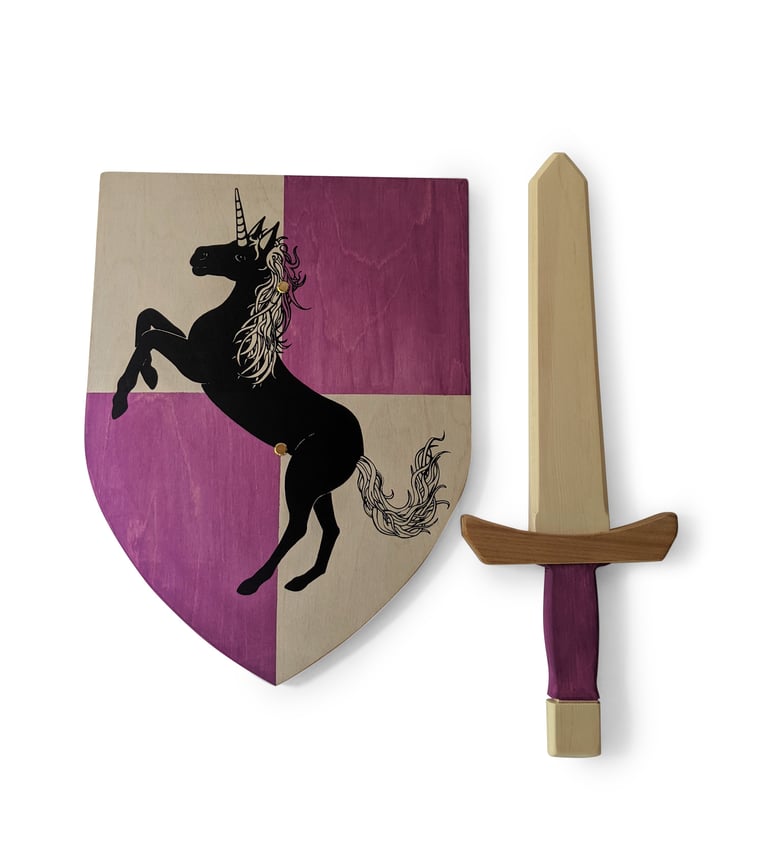 Unicorn Wooden Sword & Shield Set
Teach your child the value of learning to make their own stories with creative play.
This unicorn themed wooden play sword and shield set is a well made, toxic free toy that will stand the test of time. A classic toy that will provide hours of fun pretend play.
Kids ages 4 - 10 years old will enjoy these toy swords and shields while playing dress up on their own or together with their siblings or friends. Storming imaginary castles or riding glowing green dragons through the skies. Our colourful wooden toy swords and shields can make a great addition to a tickle trunk costume or a birthday party activity.
Consider pairing our unicorn themed toy sword and shield set with a Woodpeckers Toys felt crown or a colourful cape to build the full costume for maximum fun.
All of the ends and edges are rounded, then carefully sanded and as a final step they are hand painted with non toxic, colourful paint. For supervised and gentle play only.
Not for children under 3 years old.
Materials
- Constructed from solid pine and alder wood
Sizing
- shield is 16" x 12" x 2" ½
- sword is 19" x 6" 1/2 x 3/4
What Our Customers are Saying
"Absolutely perfect. Super fast ship. Wonderful seller to work with"
"A really nicely made sword and shield! The hand-hold on the shield has already held up to some pretty rough play. Both my kids (2 and 4 yrs) love the swords and shields and they lead to a lot of open-ended make-believe play. They are strong and can take some pretty intense drops and bangs!"
"The sword and shield are absolutely adorable and well made! I hung them on the wall in the nursery for now. I can't wait for my baby boy to play with these when he is older!".
Inspired by imaginative play and creative play for preschoolers, Woodpeckers Toys hand crafts our classic wooden toys from our studio on the west coast of British Columbia. Feel good about shopping locally with a non toxic toy brand. If you are looking for modern nursery ideas, Woodpeckers Toys has something for the little ones in your life.