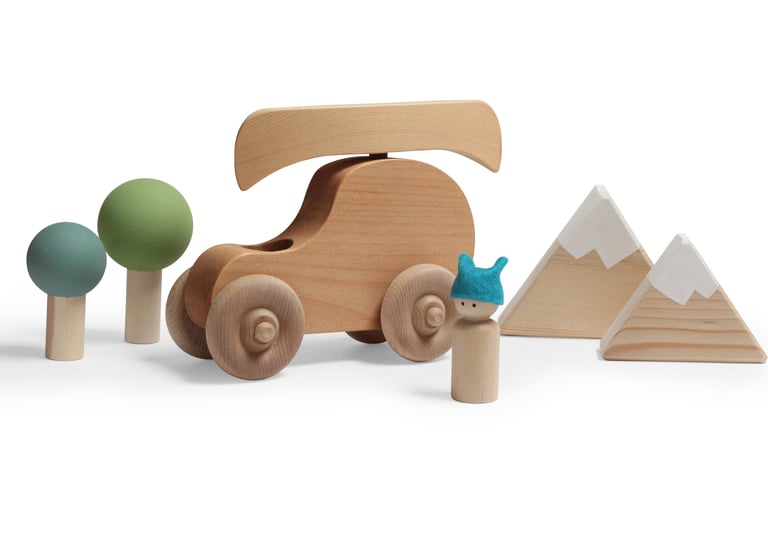 This unique going camping wooden playset will bring your children's imagination to life. Get your little ones excited about outdoor adventures in nature early on!
The canoe can stay up on the roof of the car or can be brought down for the peg doll to ride in while paddling down a sparkly river through imaginary forests.
This playset can be built up over time with other toys from the Woodpeckers Toys collections like the Autumn Stroll Playset or the Road Trip Playset.
We believe that imaginative play in early childhood is important to your child's creative development and each toy made in the Woodpeckers Toy studio is created to inspire endless hours of pretend play.
Made of solid wood. Please check the set sizes below.
Small set : 1 car, 1 canoe, 1 peg doll
Medium set: 1 car, 1 canoe, 1 peg doll, 2 trees
Large set: 1 car, 1 canoe, 1 peg doll, 2 trees, 2 mountains
Materials
- Alder
- Pine
- Non toxic paint
Sizing
- Car: 5 " tall - 6" long
- Peg doll: 2 5/16 tall
- Trees: 2 3/4" to 3 1/2" tall.
- Canoe: 6" long
- Mountains: 2 1/2" and 3 1/2 " tall
Supervision is recommended for children under 3 years old.
What Our Customers are Saying
"This was purchased as a gift. The set was received with such excitement! Great quality, and super cute."
"​Absolutely charming. Very nice feel to the woodwork."
"​​Great little set, pieces were larger than I had imagined. Trees are super cute. Great for open ended play. Shipped fast"
At Woodpeckers Toys we design and craft modern nursery decor to inspire imaginative play in early childhood. If you are looking for classic, minimalist style toys that will stand the test of time for your little ones, look no further! Our toxic free, wooden and felt toys are hand made with as many local products as we can source in our studio on the west coast of British Columbia. We offer an easy online shopping experience and fast shipping across Canada, the US and more worldwide locations.