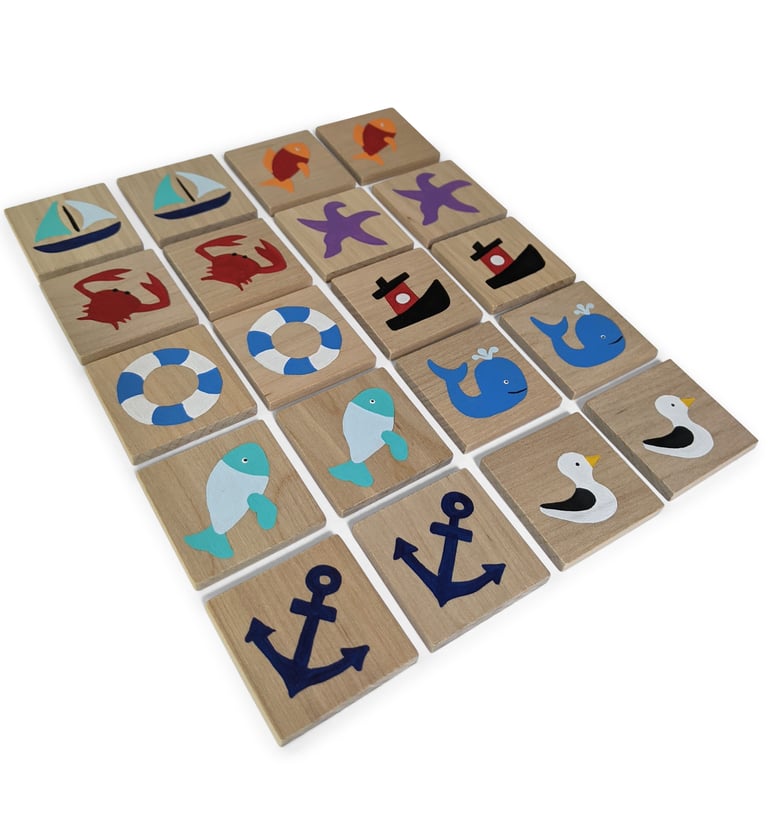 Ocean Wooden Tile Memory Game
Our wooden matching memory game is a fun learning toy for children to develop their memory while honing their matching skills.
Each wooden memory game contains 20 hand-painted wooden tiles inspired by the ocean and seaside adventures. Order your memory game in a convenient drawstring bag or a wooden box to store all the pieces.
Each wooden tile is hand-painted individually with non toxic paint. We create our own designs, and hand-carve our stamps.
Rules: Lay out the tiles printed face down on the table or floor. Each player flips two tiles trying to find a match. A player is awarded another turn for making a match and goes again. The player with the most wins the game! It requires observation, concentration and a good memory to win!
Supervision is recommended for children under 3 years old.
Materials
- Solid wood
- Non toxic paint
- Non toxic ink
Sizing
- Tiles are approximately 1.1/2 "x1.1/2" (38 x 38 mm)
What Our Customers are Saying
"Beautifully made. I love it. Can't wait to play this memory game with my 3 year old. Thank you."
Our educational toy ideas are inspired by Montessori imaginative play and creative play for preschoolers. Woodpeckers Toys hand crafts our non toxic wooden toys from our studio on the west coast of British Columbia. We are proud to be a non toxic toy brand. If you are looking for modern children's toys, Woodpeckers Toys has something for the little ones in your life. Fast shipping across Canada, the US and other world wide locations.