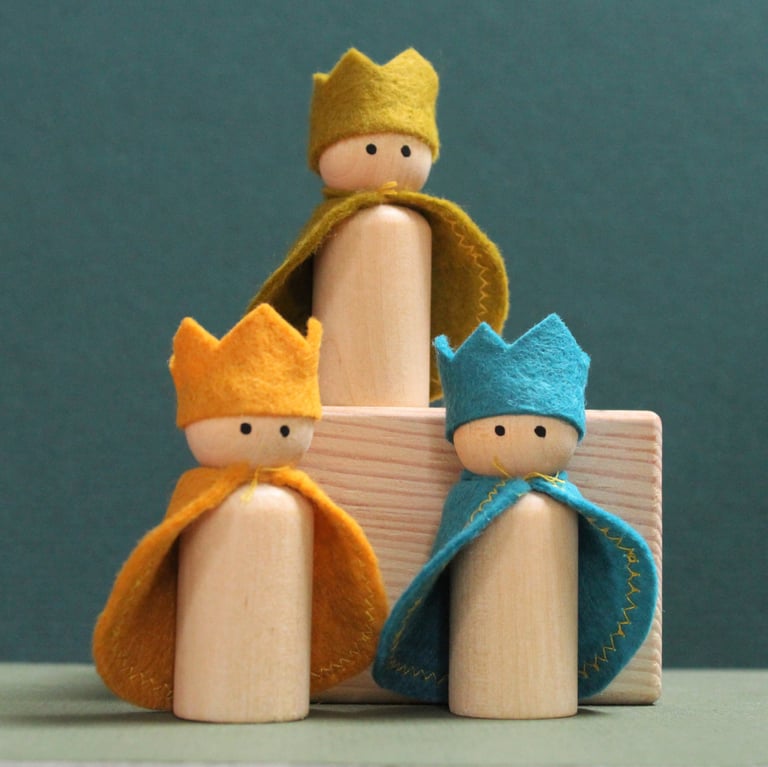 The Woodpeckers Toys wooden peg doll playset is designed to accompany your little ones on their colourful adventures for many years.
These adorable characters will awaken children's creativity and can adapt to any play space. Our Montessori style toys can inspire hours of pretend play, dreaming up adventures for the little peg dolls as knights, Kings and Queens of the fairy kingdom or many more adventures. Your little one will have loads of fun!
We believe that imaginative play in early childhood is important to your child's creative development and each toy made in the Woodpeckers Toy studio is created to inspire endless hours of playtime.
Materials
- Pine
- Non toxic paints
- Wool blend felt materials for the hats
Set includes
- 3 peg dolls
- Peg dolls are 2" 5/16 tall
Our wooden peg doll playset is made of solid wood. This toy has small parts which can be a choking hazard. Intended for children 3 and up.
Woodpeckers Toys hand crafts our non toxic toys and costumes from our studio on the west coast of British Columbia. We are proud to be a non toxic toy brand. If you are looking for modern children's toys, Woodpeckers Toys has something for the little ones in your life. Fast shipping across Canada, the US and other world wide locations.