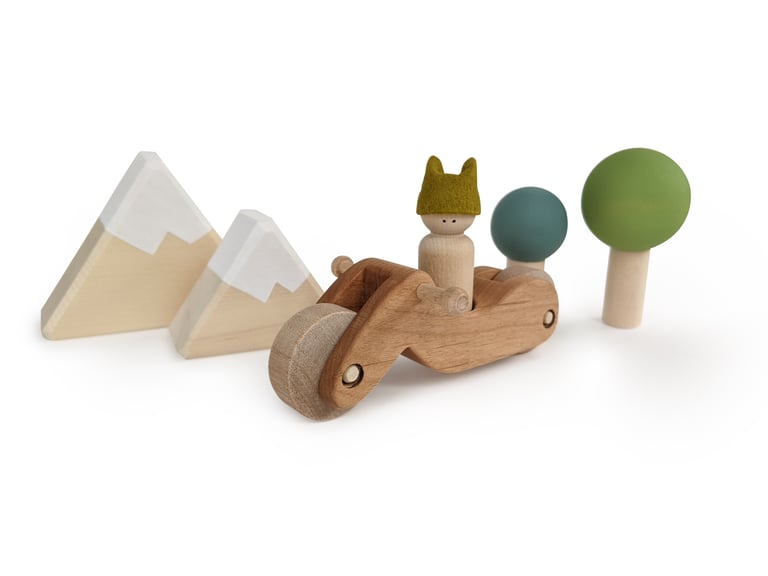 This handmade wooden road trip adventure playset is the perfect addition to a modern minimalist nursery. And what's better than a wooden toy car? A wooden motorcycle of course!

Hours of open ended play are ahead on this road trip adventure. The timeless look of the natural wood gives these toys a classic feel. The motorcycle is designed so it can stand on its own.
This set can be added to over time with other toys from the Woodpeckers Toys collections like the Autumn Stroll Playset or the Going Camping Playset.
We believe that imaginative play in early childhood is so important to your child's creative development and each toy made in the Woodpeckers Toy studio is created to inspire endless hours of pretend play.
Made of solid wood. Please check the set sizes below.
Small set : 1 motorcycle, 1 peg doll
Medium set: 1 motorcycle, 1 peg doll, 2 trees
Large set: 1 motorcycle, 1 peg doll, 2 trees, 2 mountains
Materials:
- Alder
- Pine
- Felt
- Non toxic paint
Sizing
- Motorcycle: 5 3/4 " long - 2'' tall
- Peg doll: 2 5/16 tall
- Trees: 2 3/4" to 3 1/2" tall.
- Mountains: 2 1/2" and 3 1/2 " tall
What Our Customers are Saying
"Bought this for my boy's 2nd birthday and I know he will adore it. He's currently on a "motorbike" kick and when he's at his grandparents he won't stop playing with their matchbook size motorcycle. We are a Waldorf family so I needed something that would fit our lifestyle and his desire (dare I say obsession) to play with motorcycles. This is perfect. It's well made and I'm confident it won't break easily under the clumsy grip of a young toddler. I know this toy will see lots of play and when we are done with it it will be a lovely item to pass along to another child! If I could give this item more than 5 stars I would."
Inspired by the ideas of Montessori imaginative play and creative play for preschoolers, Woodpeckers Toys hand builds our non toxic wooden toys from our studio on the west coast of British Columbia. We are proud to be a non toxic toy brand. If you are looking for modern nursery ideas, Woodpeckers Toys has something for the little ones in your life.