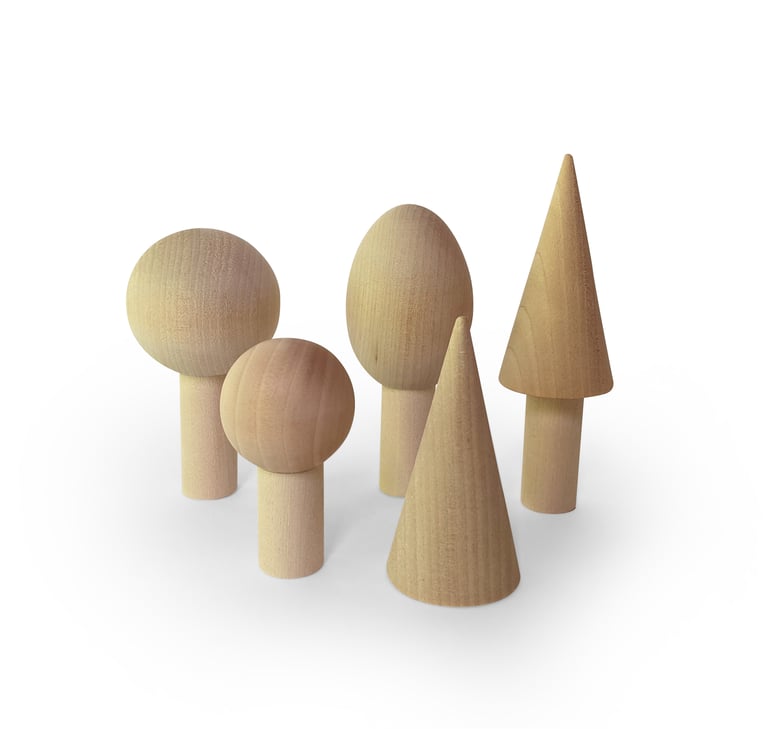 Wooden Tree Playset Natural
This handmade wooden tree playset is the perfect addition to a modern minimalist nursery or a gender neutral nursery theme. The timeless look of the natural wood gives these toys a classic feel.
This set can be added to other playsets from the Woodpeckers Toys collections like the Going Camping Playset or the Road Trip Playset.
We believe that imaginative play in early childhood is so important to your child's creative development and each toy made in the Woodpeckers Toy studio is created to inspire endless hours of pretend play.
Made of solid wood. Please check the set size below.
Set of 5 trees
2 3/4" to 4 3/4" tall.
Materials
- Pine wood
- Non toxic paint
What Our Customers are Saying
"​​These are SO CUTE. Arrived quickly and well made."
"I really like the simplicity of these wonderful wooden toys. Great colours!"
"A beautiful addition to our current set of blocks and fun to play with animals and figures!"
Inspired by the ideas of Montessori imaginative play and creative play for preschoolers, Woodpeckers Toys hand builds our non toxic wooden toys from our studio on the west coast of British Columbia. We are proud to be a non toxic toy brand. If you are looking for modern nursery ideas, Woodpeckers Toys has something for the little ones in your life.