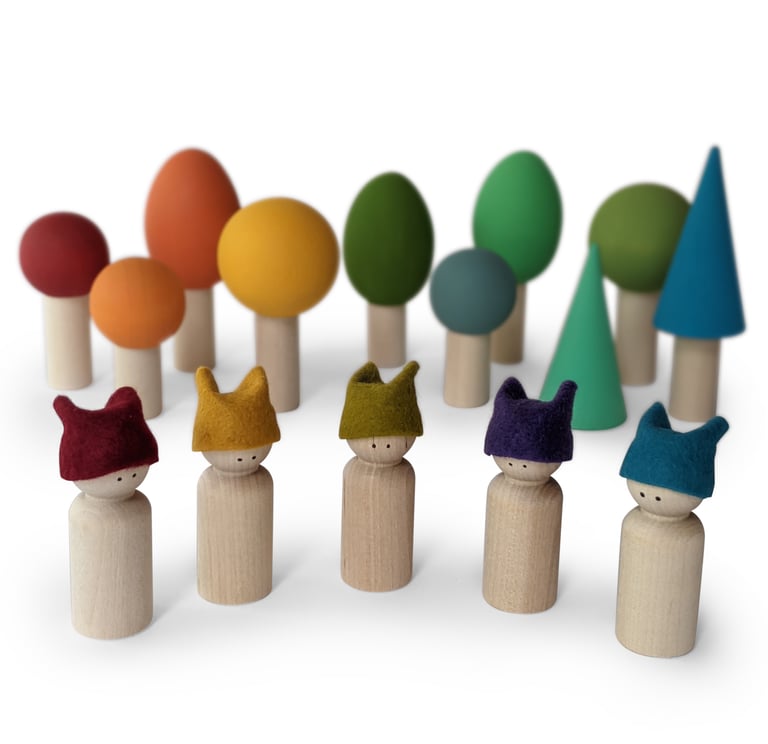 If you are looking for modern nursery ideas this rainbow peg doll playset is a wonderful addition to any nursery and will fit seamlessly into many themes, including a gender neutral nursery.
This playset was designed to accompany your little ones on their colourful adventures for many years with a beautiful minimalist forest and adorable characters to get your child engaged in imaginative play and spark their creativity.
Set includes
- 10 trees
- 5 peg dolls
Materials
- Pine
- Felt
- Non toxic paint
Sizing
- Peg doll 2 5/16" tall
- Trees 2 3/4" to 4 3/4" tall
Inspired by the ideas of Montessori imaginative play and creative play for preschoolers, Woodpeckers Toys hand crafts our non toxic wooden toys from our studio on the west coast of British Columbia. We are proud to be a non toxic toy brand. If you are looking for modern children's toys, Woodpeckers Toys has something for the little ones in your life. Fast shipping across Canada, the US and other world wide locations.